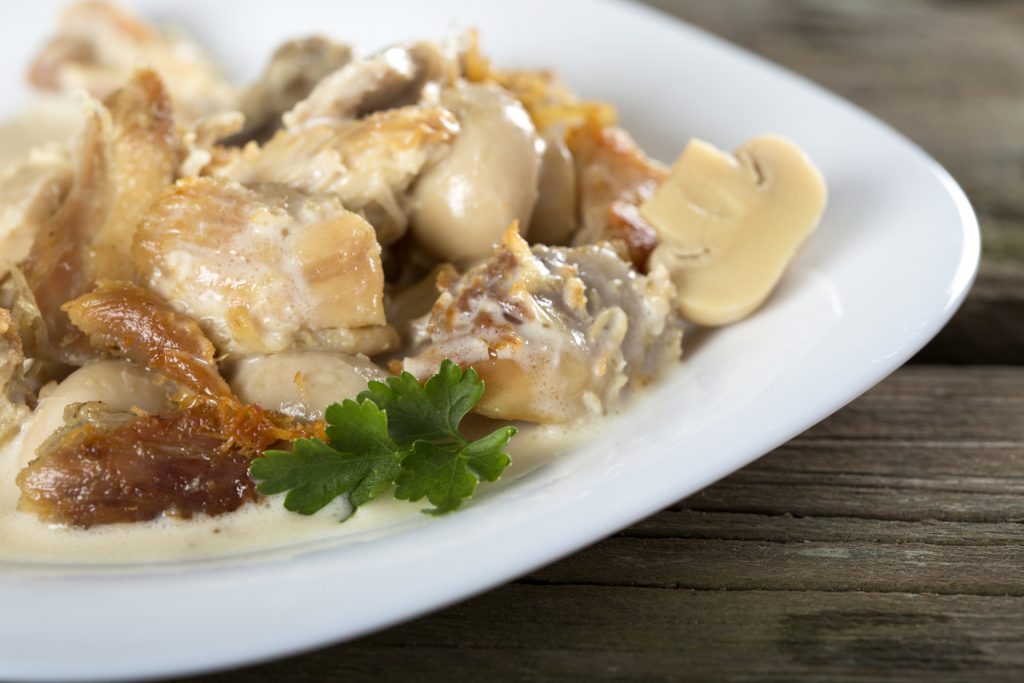 Arkansas Chicken
Serves: 8
Prep Time: 20 Minutes
Cook Time: 70 Minutes
Ready In: 90 Minutes
Ingredients
4 large chicken breasts – divided in half lengthwise
16 slices of quality bacon
1 package of thinly sliced deli beef
2 8 oz packages of cream cheese
2 8 oz tubs of sour cream
2 cans of Campbells Cream of Chicken Soup
1 tbsp Heath's Blends Chicken Scratch seasoning
8 round toothpicks
Directions
1. In a large mixing bowl, mix thoroughly the sour cream, cream cheese, and Cream of Chicken Soup mix. Either with fork or strong blender. Blend in the Chicken Scratch seasoning.
2. Take 2 pieces of bacon and criss-cross to X pattern. Roll up a breast half, long ways, and wrap the bacon ends over top, draping ends over each. Use a toothpick to hold the bacon in place. Repeat with all chicken breasts.
3. On bottom of 9×14 bakeware dish, completely cover the bottom of pan with the thin-sliced beef. Now evenly place the bacon-wrapped chicken in dish.
4. Preheat oven to 375. Pour the Mix of creams over top of chicken, spreading evenly. Try to completely cover the chicken, so only the toothpicks are showing. Cover with foil tightly, and place in over for 45 minutes.
5. Pull dish from oven and increase over temp to 425. Remove foil cover. Place back in oven for another 25 minutes to brown top. Serve over white rice.